Beauty Through
Every Stage
of Motherhood
Take a trip with Andrea Chong through a journey of motherhood and discover beauty topics made for moms-to-be and mothers. Follow #DreaxClarins for more updates and share your favourite #ClarinsMOMent.
Your body isn't the only thing that changes during pregnancy. Discover our range of specially formulated maternity products that'll keep you looking and feeling great throughout your motherhood journey.
Must-Have Face Care
Hear from Andrea on how these plant-powered skincare takes care of her skin throughout her pregnancy.
ONLINE EXCLUSIVE
Be Travel-Ready with our
Beauty Essentials Hospital Kit
Keep your skin radiant with our best-sellers even after delivery.
$30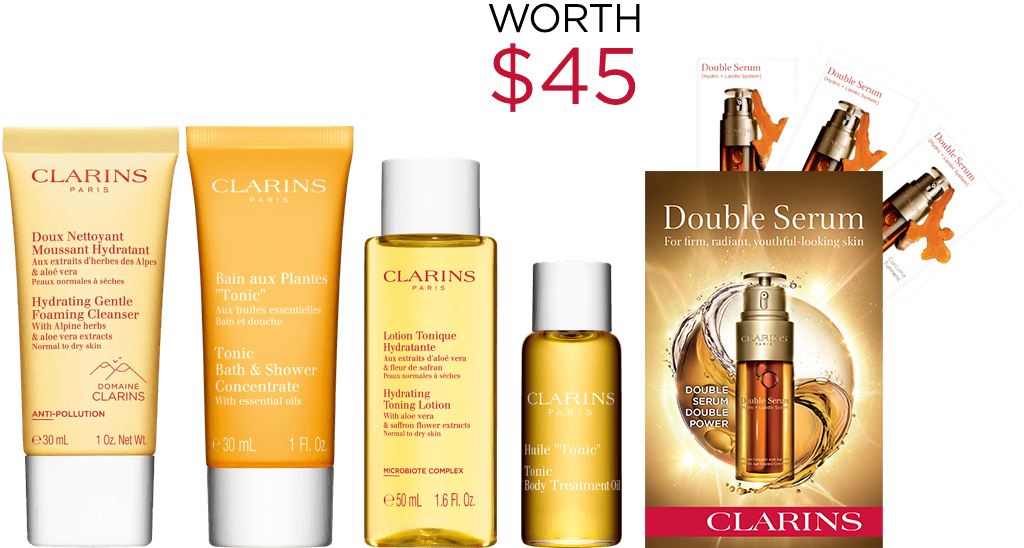 Set consists of:
Hydrating Gentle Foaming Cleanser 30ml, Tonic Bath & Shower Concentrate 30ml, Hydrating Toning Lotion 50ml, Tonic Body Treatment Oil 10ml and Double Serum 3-Day Kit
Welcome Home!
Returning home with your baby is a great moment of joy! Organise your new life with your baby and continue to look after yourself and enjoy looking good to be the prettiest of mothers for a long time to come.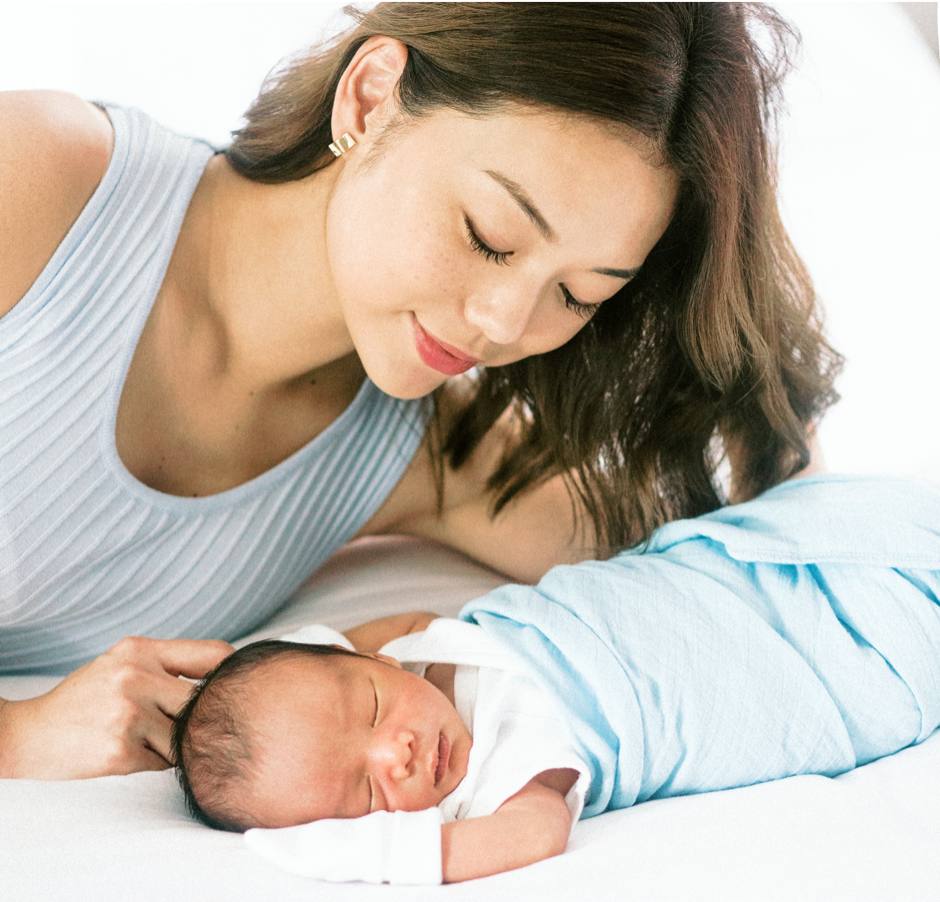 Your body has just given birth, so take good care of it. Here's are some recommendations from Clarins to stay body beautiful and get your body back into shape.
Post-Pregnancy
Skincare Routine
You feel beautiful and so should you. New mothers often glow with a special radiance and here are some of the skincare recommendations to help you maintain this radiance.
Good Beauty Habits To Keep
If you are still feeling a little overweight after childbirth, do not start a very strict diet immediately. Instead, adopt a healthy eating plan and exercise regularly.
Lifestyle Tips for After-Birth Body Care Routine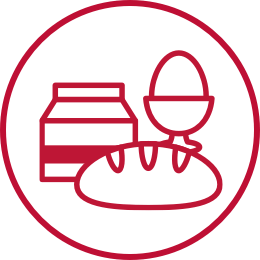 Always eat a healthy, balanced breakfast and never miss meals.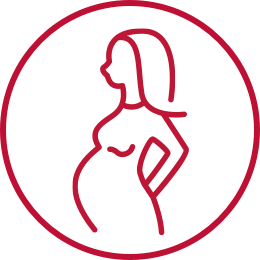 Avoid exertion, fatigue and stress. Rest and relaxation facilitate weight loss.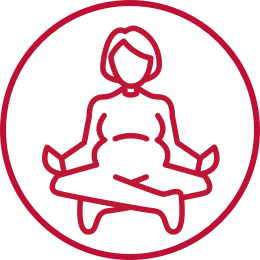 Exercise: It is good to exercise but beware of exhausting activities.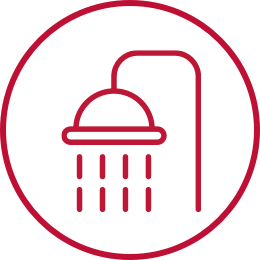 Avoid hot baths, take cool showers instead as cool water is highly beneficial to tone and firm the body.
We hope you have enjoyed a beautiful pregnancy and a beautiful new beginning with baby.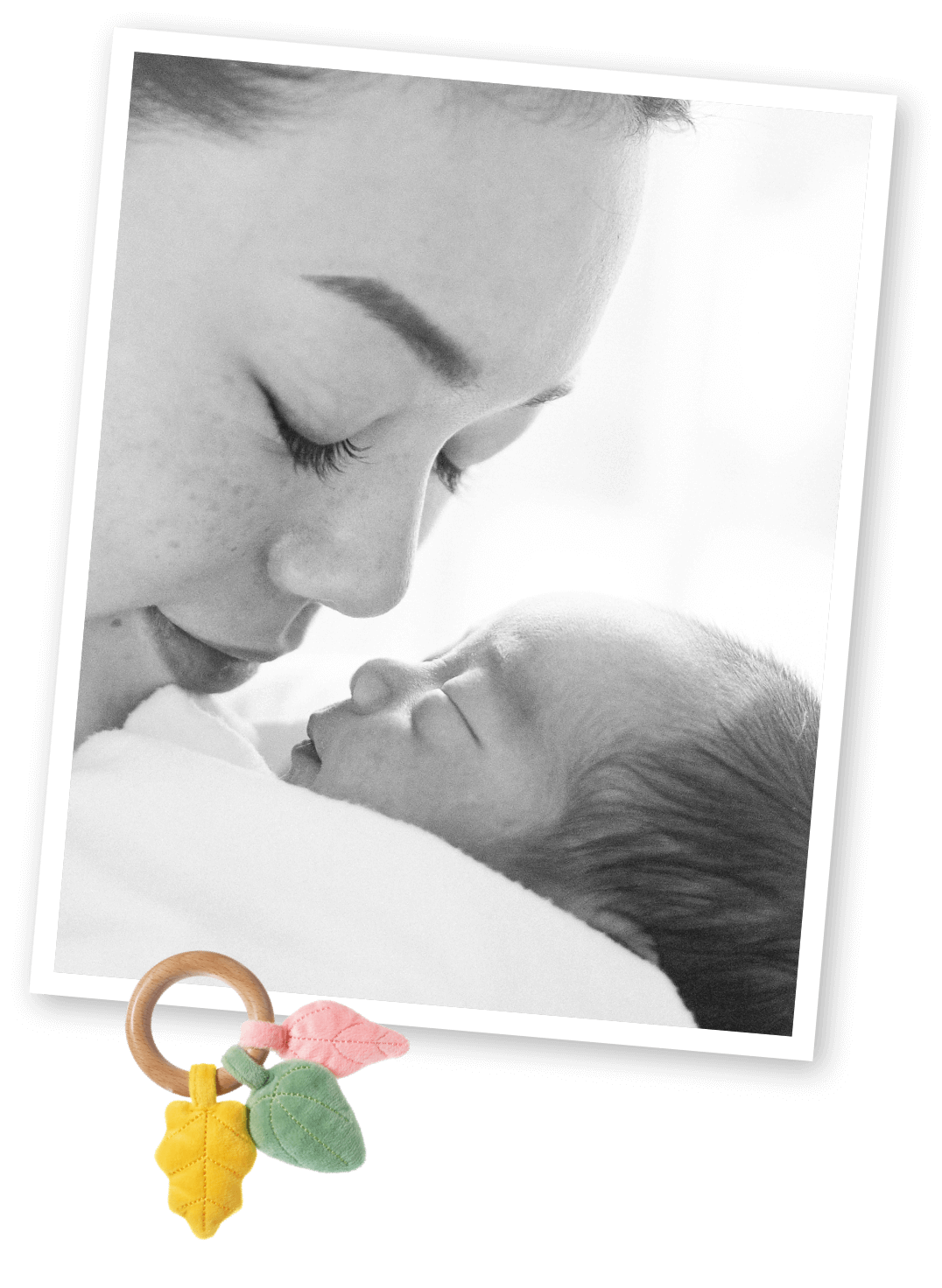 Motherhood
Motherhood is an exciting journey and it is definitely one of the best job anyone could ever have. Discover beauty and health tips with Andrea and friends together with BRAND'S® for a beautiful journey.
Celebrate Motherhood with BRAND'S®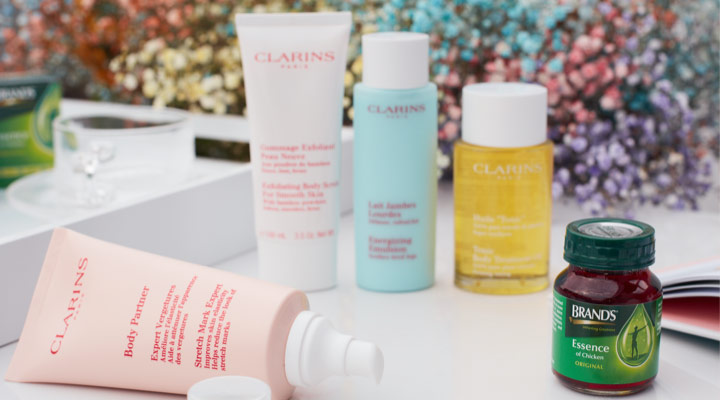 Keep your body healthy and energised throughout this wonderful adventure by having a bottle of BRAND'S® Essence of Chicken daily. Celebrate motherhood with BRAND'S® and give the best to you and your child. Learn more about BRAND'S® Essence of Chicken now!
Andrea & Friends Motherhood Panel Sharing Session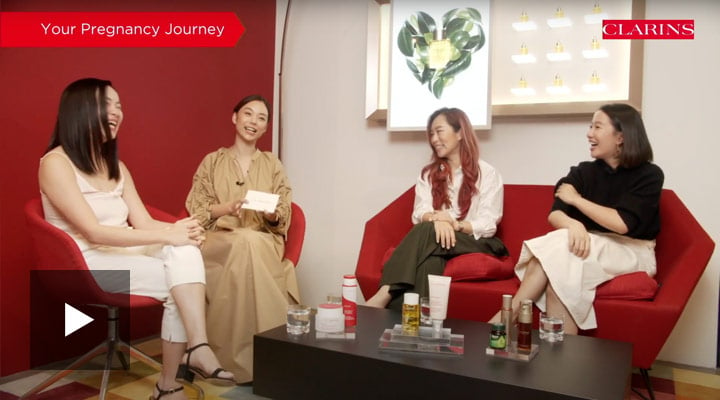 An intimate panel sharing session hosted by Andrea Chong, Clarins Maternity Ambassador, together with Rachel Lim (Co-founder of Love Bonito), Yvon Bock (Founder of Hegen), and Anabel Chew (Founder of WeBarre). Watch as they chat about all things Pregnancy and Motherhood!
Double Serum, Double Power
Tried & test by Andrea, discover Double Serum and the NEW Double Serum Eye - the complete anti-ageing duo for younger-looking skin!

Powered by 21 natural organic plant ingredients including Turmeric and Organic Wild Chervil to boost skins 5 vital functions, reduce wrinkles, dark eye circles and fight all signs of ageing, it is no wonder why the Power Duo duo are highly ranked in Andrea's beauty must-haves!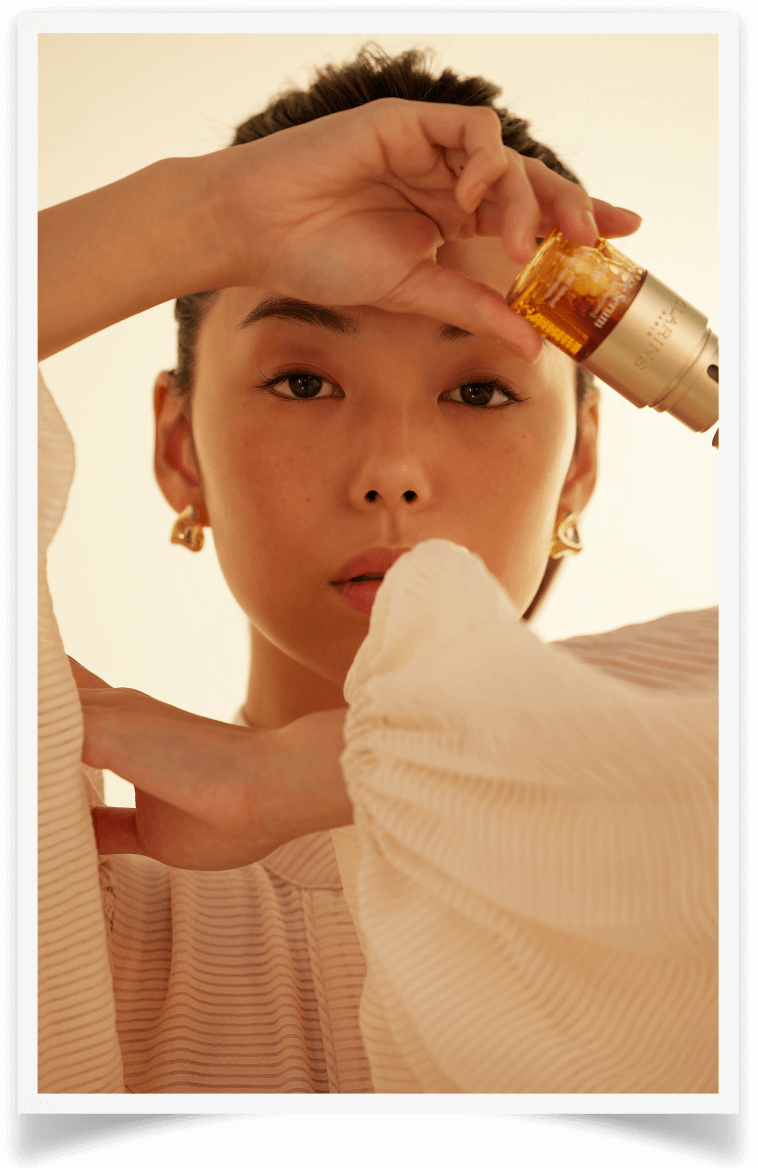 "Double Serum Eye helps to depuff my eyes and prevent dark eye circles!"
Andrea
"I pair it with the iconic Double Serum to keep my skin radiant & glowy! It is the perfect anti-ageing duo!"
Andrea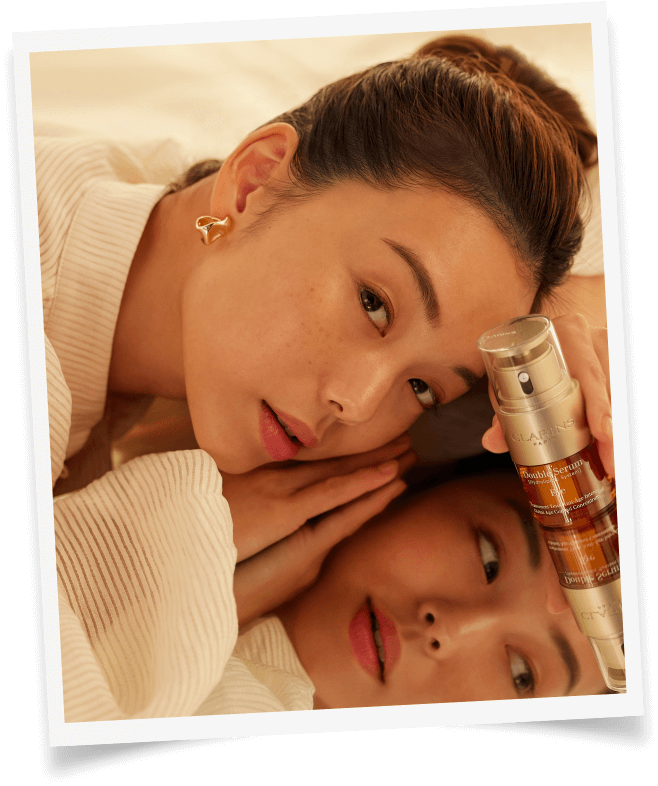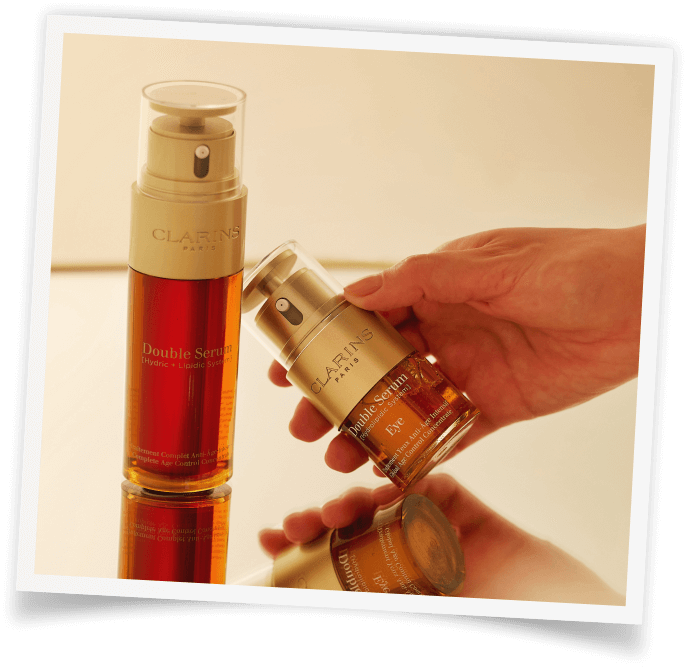 Motherhood with Andrea:
10 things Mom Or Mom-To-Be needs to know!
Make your baby care journey a joyful and stress-free experience with knowledge and tips from Andrea on how to become a confident Mom!
1
An advice to yourself when you knew you are pregnant
You can read all the books, listen to all the advice, and prep in advance. What you will realise is there is no right or wrong answer, no recipe book or instruction manual that will cater 100% to you and your baby. The most important thing is to be thoughtful and intentional in parenting and mothering your child. Don't fret about the small things, and listen to your body, it knows best!
2
Best thing about Parenthood
Becoming a mother is probably one of the best things that has happened to me. I have always known I wanted to be a mother, and it has brought out that nurturing side that I have always wanted to share. Being able to watch him grow up and conquer different stages of life (even though he's only 8 months old) brings me so much joy and motivation, it makes you want to work harder to give him the best!
3
Anything you wished you had known before becoming a mom
ALL THINGS BREASTFEEDING. I asked all my mom friends for advice regarding breastfeeding before and after giving birth. I already heard all the horror stories and was bracing myself - the engorgement, the pain, and the tears were all so true to me during my first week back home. But the good thing is there is always help along the way. I consulted an LC and GP, Dr Mythili Pandi, who helped me so much with my journey, and I could get the engorgement under control by my third week. There is so much advice regarding breastfeeding out there, but what first time moms have to realise is everyone's body is different and unique, you do you and form your own strategy!
4
Many working mothers experience mum guilt. How would you encourage them
Letting go of guilt has to start with a commitment to stop beating yourself up over choices and circumstances which you have no control. Whenever I feel the mom guilt, I realise it will take a toll on my mental health causing me to have unhealthy thoughts like "I'm a bad mom, I'm not there for him 100% etc." Instead, I tell myself "You are working hard for your family, and you are hard at work to pursue your own personal goals in life!"
5
What is good work-life balance to you
I'd like to think that I have a very good work-life balance, weekends are purely for family. I have to go to work on the weekdays, I always try to leave the office by 5pm so that I can make it home and have enough time to spend with Ezra (like take him to the beach for dinner!) before his bedtime.
6
Does it really takes a village to raise a kid
YES! I don't work from home so I'm really thankful for my helper, my husband Imran (who works from home) and (on occasion) my in-laws. All these people who help take care of Ezra made the transition of going back to work so much easier, I don't have to worry about whether or not Ezra is being well fed or taken care of.
7
Tiger Mom - Yay or Nay
I think we can think of the term "Tiger Mom" positively - ultimately we all just want the best for our kids!
8
Any secrets on your Bodycare and Skincare routine for pre & post-partum
You can use the products in the Clarins Beautiful Pregnancy Set both pre and post-partum. My holy grail products are 1)
The Body Partner Stretch Mark Expert
- I used it since my first trimester all over my thighs, buttocks, stomach and breasts - and I can proudly say my body has no stretch marks! I still use it whenever I have time at night to maintain the firmness of my skin. 2)
The Tonic Body Treatment Oil
was so helpful for my growing (and itchy) belly from the later part of my second trimester. My skin was expanding so quickly and I was itching everywhere - the oil really helped to calm things down. I use it so regularly post-shower up till now, especially since I want to tone and firm my belly as I embark on my post-partum fitness journey! 3)
The Double Serum Eye
- I wake up several times at night and I always worry about looking tired especially for shoots. I like to use the
Double Serum Eye
because it helps to prevent dark eye circles and depuffs my eyes.
9
Favourite tips to maintain your mental health and get enough 'ME TIME'
As much as it is so hard to go out and get me-time (I have to cut short my hair appointments so that I can go home and be with my son), doing things for yourself like going shopping for 2 hours with a friend (with baby in tow!), or getting your nails down, or going for a massage at the Clarins Skin Spa, are all things you can do to "reward" yourself for waking up all those tough nights!
10
A word of advice for a new Mother-To-Be. Any parenting 'hacks' you'll recommend?
To be honest I'm a very chill mom, when times are tough, it's important to remember that tough times won't last. We are all learning each day and though the nights but be long, the days are short and I think it's important to cherish all the moments in between.