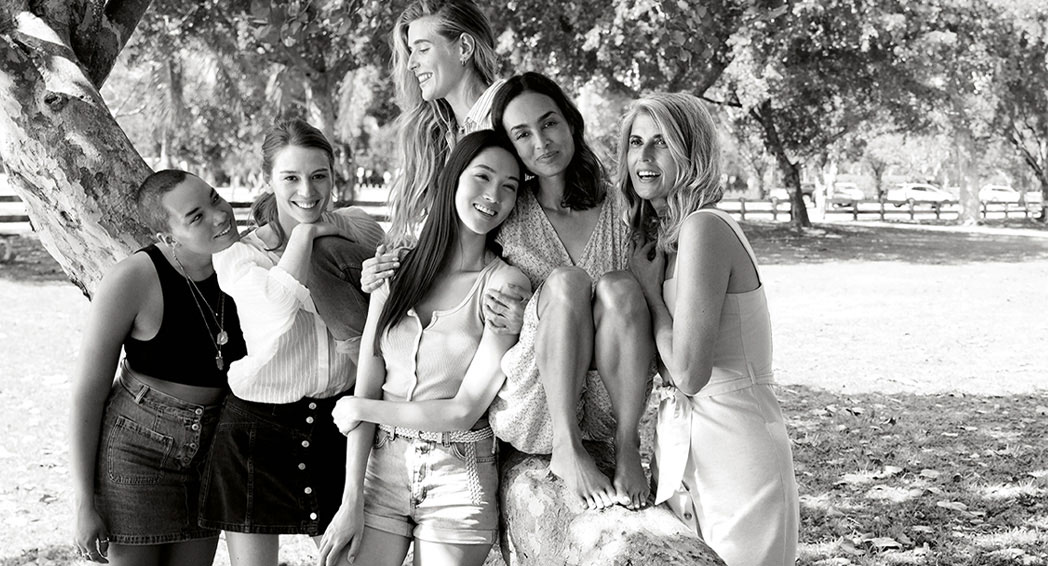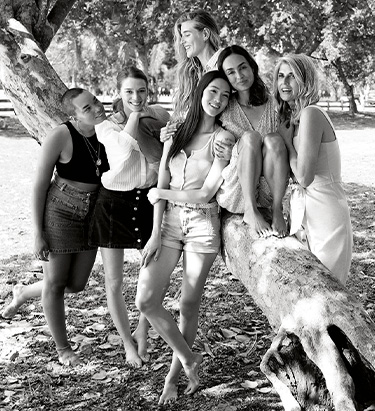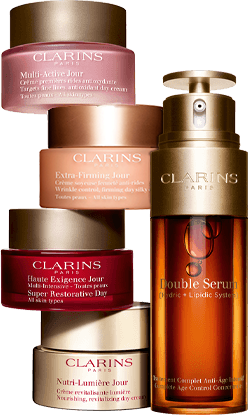 "Every
age is the happiest
one."
Anti-ageing and Wrinkle Control Skincare
THE NO. 1 EUROPEAN LUXURY SKINCARE BRAND*
For over 60 years, Clarins has been taking care of you with skincare packed full of the best plant-based and active anti-ageing ingredients.
*Source: NPD BeautyTrends®, skincare products sold in perfume shops and large retailers, prestige brands, total sales in 2016 value in four countries: France, Italy, Peninsular Spain and the UK
Early Wrinkles Skincare
Multi-Active Range
Targets and reduces the first signs of fine lines and wrinkles by preserving the skin's natural moisture. It smoothes, revitalises, and boosts radiance to reveal younger-looking skin. Designed to keep up with the hectic lifestyles of women.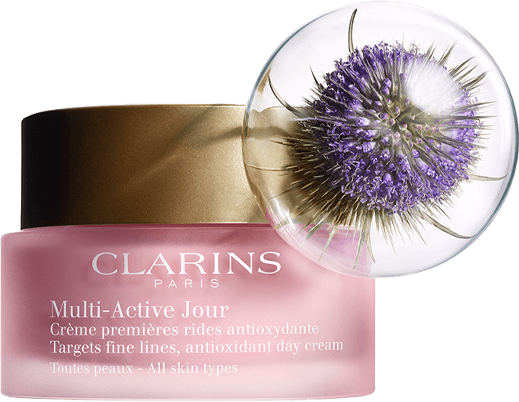 Teasel
Multi-Active Day Cream
Targets fine lines, antioxidant day cream
Early fine lines are visibly smoothed
Radiance
Improved skin tone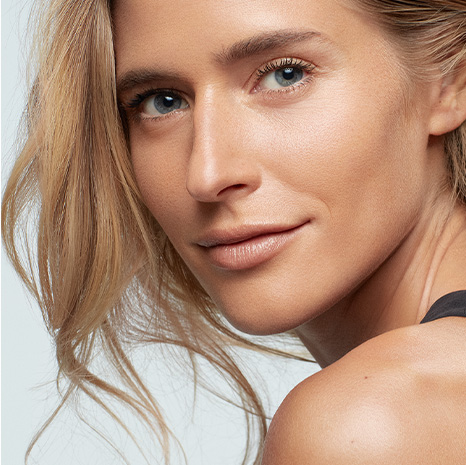 Maribel Koucke
Surfer & Globe Trotter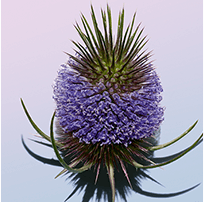 Teasel
In cosmetic, teasel extract
is energising and antioxidant.
ANTI-AGEING SKINCARE FOR 25S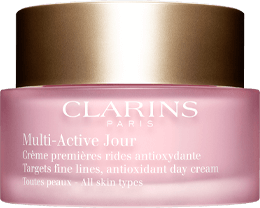 Multi-Active Day Cream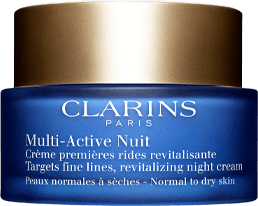 Multi-Active Night Cream
COMPLETE ANTI-AGEING skincare
Extra-Firming Range
An instant smoothing effect. Wrinkles are visibly reduced and the contours of the face look more sculpted. Visibly firmer, smoother, and radiant; Extra-Firming range helps you to have a youthful-looking skin.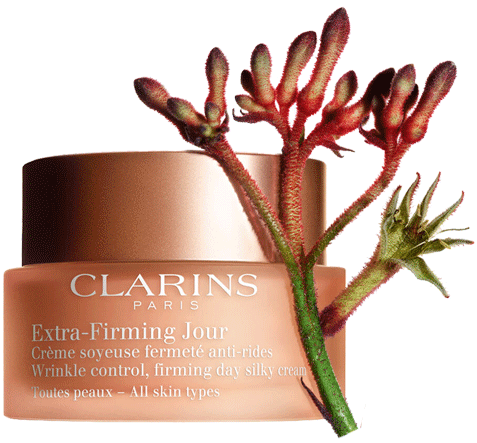 Extra-Firming Day Cream
A wrinkle control day cream that rejuvenates and visibly firms.
Gives an immediate healthy glow effect
Boosts radiance of the skin
Helps the skin to regain vitality and a firmer quality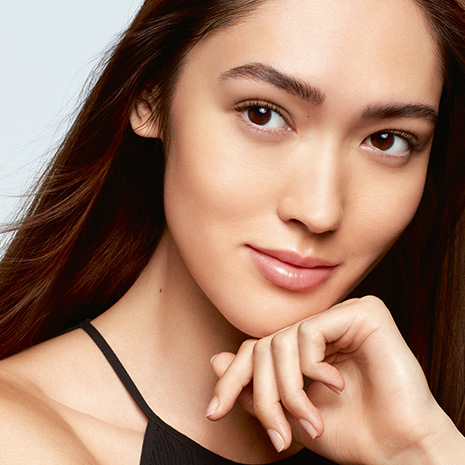 Monica Vaughan
Passionate Business-Owner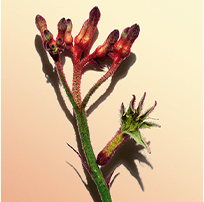 Kangaroo flower
In cosmetics, kangaroo flower extract helps optimise the potential of skin regeneration.
ANTI-AGEING SKINCARE FOR 35S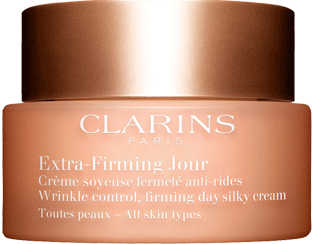 Extra-Firming Day Cream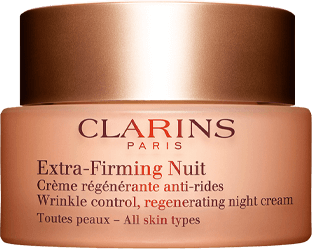 Extra-Firming Night Cream
Redensifying skincare
Super Restorative Range
Complete replenishing action for more fragile, ageing skin going through hormonal changes. Enriched with Organic Harungana extract, this age-defying cream intensely replenishes the skin at all levels.
Harungana
Super Restorative Day Cream
Replenishing anti-ageing for glowing skin
Instantly brightens and smoothes
Replenishes the skin at all levels
Reduces the appearance of deep wrinkles
Visibly Lifts and combats slackening
Nourishes and moisturises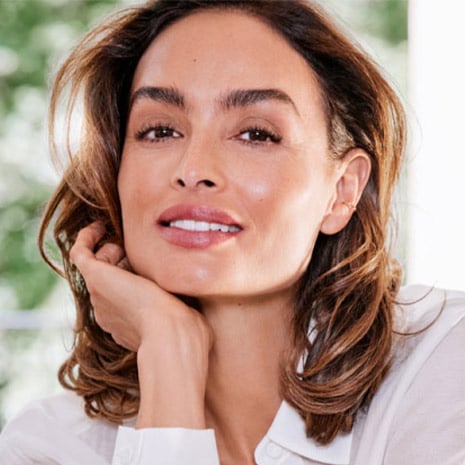 Leticia Herrera
Food & lifestyle expert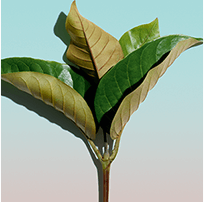 Harungana
In cosmetics, organic harungana extract helps to encourage the synthesis of collagen to promote firmer skin.
ANTI-AGEING SKINCARE FOR 45S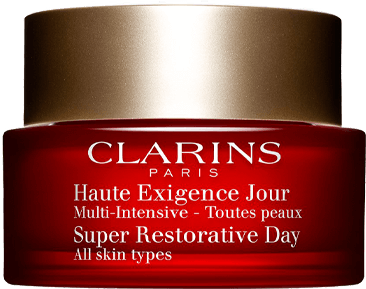 Super Restorative Day cream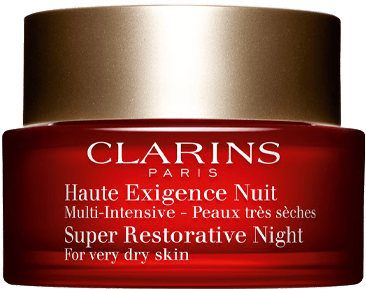 Super Restorative Night Cream
3 steps to protected skin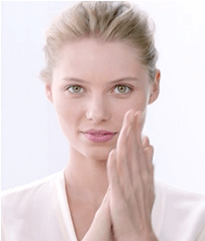 1
3 seconds
Warm Take a small dab of cream. Warm it in your hands to bring it up to the temperature of your skin and help it take effect instantly.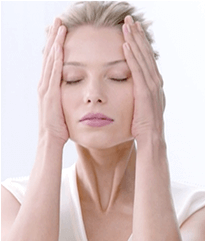 2
8 seconds
Apply Use the natural weight of your hands to distribute the product evenly on your neck and décolleté.
3
16 seconds
Apply Pressure Use the pressure draining method to stimulate circulation, bring radiance back to your complexion, and maintain firm skin. 3 times on the cheeks, 3 times on the forehead, 5 times on the neck and décolleté.
Any questions ?
Our experts will be able to answer you.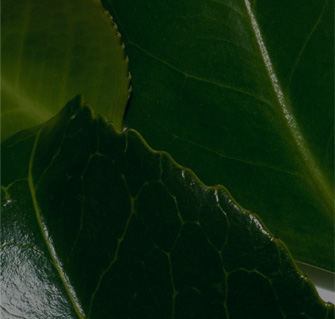 Your Beauty Consultation
Your personalised product recommandations, all with a few swipes.
Clarins Best Sellers
Anti-ageing products are a must-have in every skincare regime. Read on to find out when is the best age to start using anti-wrinkle creams and serums.